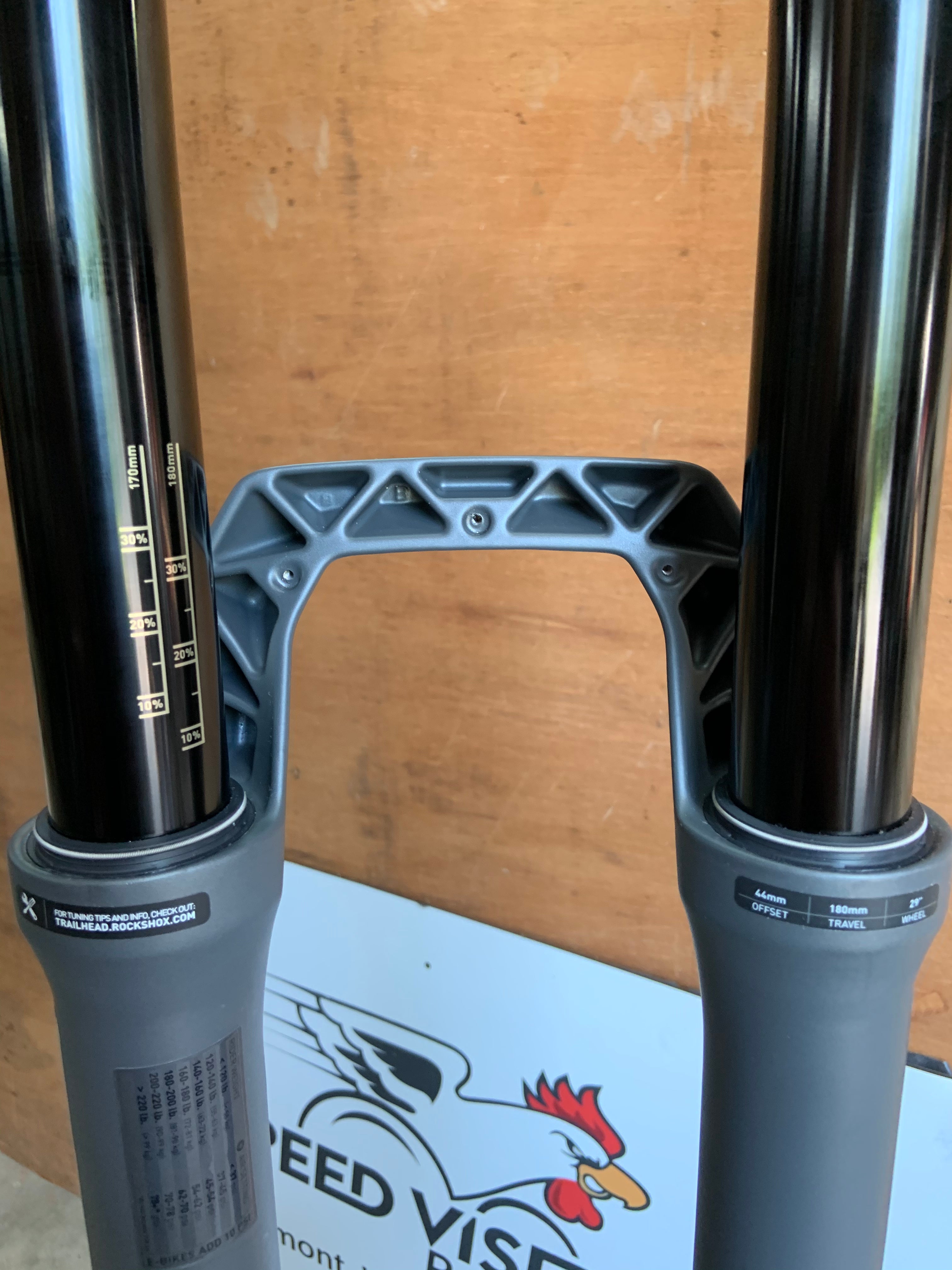 ZEB ULTIMATE RC2 29" 150-190 44SC A2
---
Shipping Daily from West Virginia, We are 1-2 day shipping for over half of the country. 
2023  brand new ZEB Ultimate forks, black lowers, 150-190mm travel. We will swap the air shaft to whichever you  need.
CUSTOMIZE your fork!  For +$150 we can also custom powder coat the lowers any color you want. 
Examples:
https://www.instagram.com/p/CdMPCEDOMsr/
https://www.instagram.com/p/Cc5bmGouWxZ/
https://www.instagram.com/p/CcgqaVAOGBT/
38mm chassis for increased stiffness and rider confidence on every critical line.Already proving itself on the podium with multiple wins during the 2021 season, Charger 3 is ready to meet the masses. Charger 3 features an all-new Internal Floating Piston (IFP) design that offers more consistency through the stroke, and truly independent adjustments that reduce harshness and increase control without any "cross-talk". Featuring High Speed Compression, Low Speed Compression, and a revamped Low Speed Rebound, every click is exact and meaningful. Dial in your perfect ride experience without a second guess. No sacrifices and no hesitation. This is Charger 3.ButterCups block 20% of high frequency "trail chatter". Limiting these vibrations massively reduces hand and arm fatigue leaving you feeling fresh with more control.DebonAir+ air spring is built to strike the perfect balance of what riders really want: a butterlike small bump feel, increased air volume to add support throughout the travel, and higher overall ride height for more confidence when things get steep.Ultimate Bushing Package maximizes bushing overlap, reducing friction and creating the smoothest ride possible.Pressure Relief Valves eliminate unwanted air pressure build-up in the lower leg caused by variations in altitude or temperature. With the press of a button, Pressure Relief Valves restore that premium fork feel.Maxima Plush Dynamic Suspension Lube reduces friction, lasts longer, and enhances suspension performance ride after ride.Bolt-in torque cap adapters now included for use with standard hub end caps.Lightweight machined and anodized crown for premium looks and durability.Available in the Signature colorway Slab Grey or Ultimate High Gloss Black.Ultra-low friction SKF wiper seals provide long lasting fork performance and improve overall suspension feelRockShox premium short fender compatibility.Maxima Plush damping fluid reduces friction and silences damper noise.
Specifications
Wheel size29", 27.5"Travel (mm)170mm, 180mm, 160mm, 190mmSteerer1.5" TaperedAxle15x110mm BOOST™SpringDebonAir+ W/ButterCupsFork offset44mm (29"), 44mm (27.5")Maximum Rotor Size220mmUpper tube type38mm aluminumMax Tire Width (mm)81Minimum Rotor Size200mmE-Bike ApprovedE-bike ApprovedDamper TypeCharger 3 RC2 W/ButterCupVolume reducer0/4 Tokens, 1/4 Tokens, 1/5 TokensColor (FS)Slab Grey - Matte, Gloss BlackFender CompatibilityBolt On - ShortWeight (g)2341Weight Based On29" Maxle Stealth 190mm Travel 1.5" Taper Steerer, W/Pressure Relief Valves & ButterCups